Vinyl Sticker:
Description:
Self-adhesive PVC Vinyl

Poly paper is a tear-resistance synthetic paper. It is made of polypropylene.
This pp paper is optional for printing with aqueous inks, Eco-Solvent ink, and Latex ink.
It is waterproof, widely used for posters, advertising, roll-up banner, display etc.
Categories (solvent/latex):
Code No.
Description
Surface
Vinyl Thickness
Liner Paper
Adhesive

W10140
Premium Vinyl Sticker

Glossy, Matte
100 mic
140gsm
Removable

G10150

Glossy, Matte
100 mic
140gsm
Permanent

G10150B
Premium Vinyl Sticker(Grey glue)

Glossy, Matte
80 mic
140gsm
Removable

P10140
Normal Vinyl Sticker
Glossy, Matte
100 mic
140gsm
Permanent
Usual Size: 36", 42", 50", 54", 60" x 50m (164ft.)
Ink Print: Eco-Solvent, Latex, UV inks

Application:
Vinyl sticker is widely used for vehicle wraps, banner display, panels, advertising, exhibiting, etc.
Features:
Super performance of outstanding adsorption.
Exquisite color presentation & high saturation.
Long period of storage.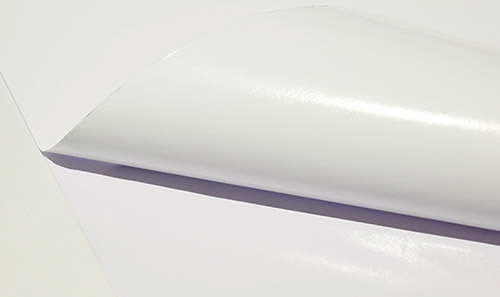 Package: